Call to Schedule Your Complimentary In-Home Estimate
A person typically spends several hours at a time in their home office, for this reason this space should calm your mind and improve productivity. The very talented designers at CAC take everything into consideration when it comes to designing your office cabinet. Assuring that the space offers the up most in comfort, style, and functionality.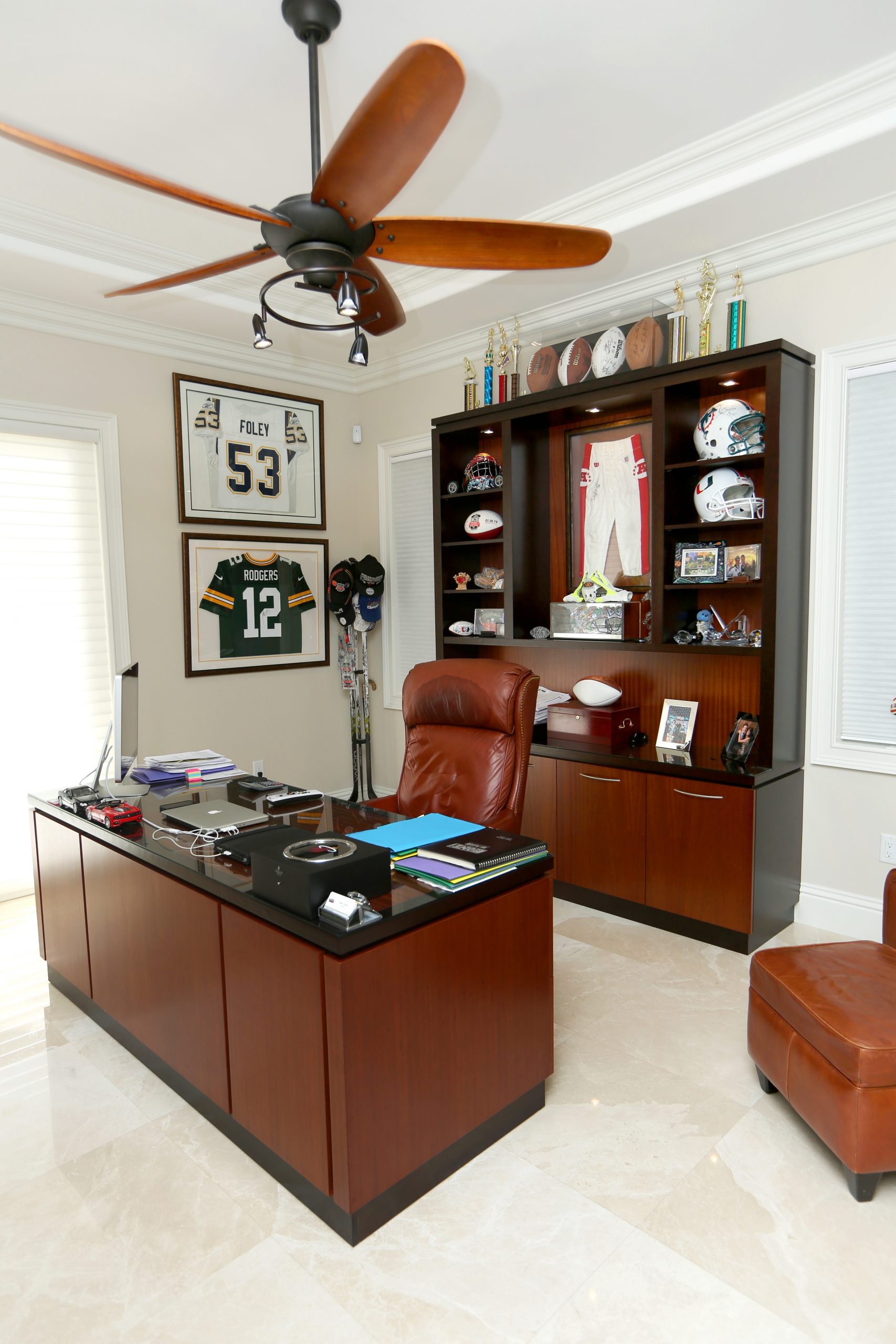 Design
We can help you design your home office to be not only unique and exquisite but also functional.
---
Lighting
We'll help you choose the perfect lights for your home office to display your keepsakes and to help accent your room.
---
Finishes
We can help you choose the right finish for your unit. Whether you want a natural mahogany or a painted white satin finish. Our custom finishes help refine your style and accent your décor.
The designers will take everything into consideration and create the perfect custom home office cabinetry that meets your precise needs. Our custom units will not only fit your personal taste but will also create your ideal workspace.
The craftsmen at Custom Artisan Cabinetry are not just cabinetmakers they are artisans. Each piece is made to fit your space, allowing us to create a custom home office that is uniquely yours. We do not out-source any part of our product, allowing us complete control to implement your design needs and preferences. You can be assured that the finish on your custom cabinet is of the highest quality meeting all your expectations.
We have installers on staff to ensure that your custom home office cabinetry is delivered to you impeccably. They are sure to leave your house in the same immaculate condition that they found it in.
Make your custom home office yours by hiring our professional artisans to build and install fine quality, custom home office cabinetry just for you.
We Strive to Create Each Piece of Furniture to Perfectly Fulfill the Needs of Our Customers.
---
At Custom Artisan Cabinetry the process of creating your dream custom home office is simple. We have designers on staff that will help consolidate your ideas and simplify what seems like a difficult process. If you are working with an interior designer we can coordinate with them as well.
The process goes:
Make an appointment to come to the showroom or have the designer go straight to your house; whatever is more convenient for you.
During this FREE consultation, the designer will get a feel for your space and needs. As they get a better idea of your vision, they will design your dream custom home office with you.
This initial appointment takes around 30 minutes to an hour, depending on how big your project is. By the end, they will give you an estimate on how much your project will cost.
Where fine quality meets personal service
I agree that Custom Artisan Cabinetry can email and call me in response to my inquiry, as well as with tips and offers for similar services.